Origin and traceability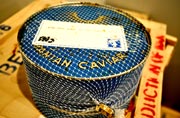 CAVIAR PASSION sets the very highest standards for the origin and traceability of its products.
CAVIAR PASSION is particularly alert to the constant need to fight against trafficking. All our suppliers must maintain a tracking system to ensure maximum traceability. Every laboratory involved in the preparation of products has to have the wherewithal to guarantee traceability.



Every single work-process is recorded in detail using strict handling requirements and sophisticated computer logistics. Each batch can be readily identified through its reference number. Every tin is labelled with all necessary information identifying its batch number. All labels specify the quality, weight and approval number: registration of this information ensures the absolute traceability of any product.
Preparation and freshness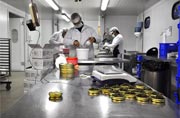 Your caviar is only prepared and packaged once ordered. Every supplier to CAVIAR PASSION maintains an absolute respect for the most rigorous European regulations. Suppliers hold all necessary authorisations, with their laboratories equipped to package products in accordance with strict hygiene norms (cold chambers maintained at less than 3°C and multiple locks) and in conformity with all applicable health controls for which they are all regularly tested.




Caviar reacts in the air: so packaging must be efficiently performed in a packaging laboratory maintained at 12° C. The grains are handled with absolute care. The caviar is carefully weighed in its tin and made air-tight to avoid oxidisation. Finally, detailed information is recorded on the underside of the tin (category of product, quantity, 'eat by' date, traceability references)
Cold chain and delivery
CAVIAR PASSION respects the cold chain from product preparation until its delivery. Once prepared, the product is placed in an isothermal package (complete with eutectic cold accumulators) so ensuring that the correct temperature is maintained until delivery to the client. The package is consigned to the delivery company which will deliver over the following 24 to 48 hours. (Delivery to certain addresses requires manual order processing so as to guarantee the cold chain. Following order placement you will be told whether your address is in this category for delivery purposes.)
Payment security
To guarantee payment security, CAVIAR PASSION has selected HSBC and its 'Elys Net Payment' system for purchases on this site. The system ensures protection of, and security for, payments and client information.t.